博物馆、美术馆、艺术馆等作为文化传播的重要渠道,近年来建设推广越来越多。但是,突如其来的疫情给展馆的传统展出带来了巨大冲击,管理者正在加快探索新的经营模式。
Museums and art galleries are important channels of cultural communication. In recent years, there are more and more museums and art galleries; however, the sudden epidemic has heavily impacted the traditional, in-person format of exhibition spaces. To adapt, people are starting to explore new business models.
虚拟展馆的出现,使沉寂的封闭式展馆重新活跃起来。
The adaptation of virtual exhibitions has made the negatively-impacted art industry begin to flourish again.
(virtualmuseums.io的世界著名虚拟博物馆)
虚拟展馆是科技发展的催生物,近年来已在部分展馆中尝试,此次疫情使这种新的艺术呈现方式在全球各大展馆得以推广。策展人员希望利用这种方式,将展馆价值最大化。
Virtual exhibition spaces appear alongside the development of science and technology. In recent years, people have slowly begun to try out some virtual exhibition platforms. This epidemic has accelerated the world's need and desire for this new, virtual gallery medium. Curators are interested in using this approach to maximize the value of their exhibitions.
(国立自然科学博物馆)
通过VR相机360°将场馆内设、外景拍摄下来,合成虚拟场馆内容,用户通过VR头显或者手机、电脑查看场馆实景。场馆内设有交互点,通过点击作品或交互点就可以查看作品及介绍,甚至可以将音频向导同步加载,为用户提供更加真实的参展体验。
With 360 VR cameras, we can capture both the inside and outside of exhibition halls in order to virtualize the space. Users can view the exhibition through VR headsets, phones or computers.
People can interact with the space. They can view the artworks and introductions by clicking artworks or interaction points, listening to synchronous audio. This provides users with a more realistic experience of the exhibition.
(森美术馆的未来艺术展)
在传统展览活动中,艺术家、策展人、作品等会随着展会的举办一直在世界范围内流动,直到几个月前的疫情爆发,出行受限,城市封锁……相关人与展品转移停滞,甚至很多展品被退居仓库。
In traditional exhibitions, artists, curators and artworks will travel around the world with the exhibition. Since the onset of the epidemic a few months ago, people's travel has become limited and cities have been closed down. The transfer of exhibitions has stopped, and many of them were returned to the warehouse..
展馆存在意义受到质疑,为了正常运营场馆,管理层通过裁员缩减成本,通过游说获取更多资金支持……实际上,即使正常情况下,也很难平衡展出与运营收支,展馆运营依赖持续的游客游览或者财团投资。而现实是游客稀缺,即使展馆在有条件的情况下开馆,游客依旧很少,展馆迫切需要新的运营模式来解决这一问题,展馆的在线计划亟待推行。
The significance of exhibitions has been questioned. In order to operate exhibitions normally, leaders reduce costs through layoffs, and seek additional financial support through lobbying. In fact, even under normal circumstances, it is difficult to balance the revenue with the expenditures of exhibitions and operations. The operation of exhibitions depend heavily on continuous visitors and investment.
Right now, they are no visitors or tourists. Even if an exhibition is open, there are still very few tourists. Exhibitions need to change how they can operate in order to solve this problem as soon as possible. The virtualization of exhibitions needs to be implemented quickly.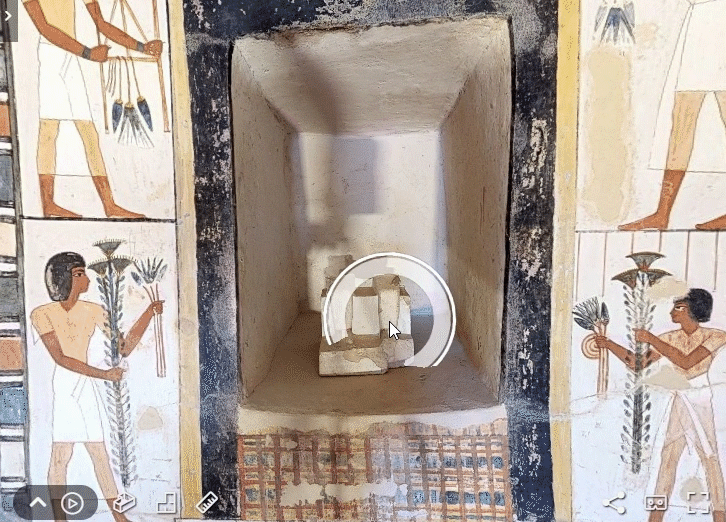 (埃及古遗迹虚拟游)
虚拟展馆将在线服务与展馆门票连接在一起,建立在线展出模式,为展馆获取额外盈利;即使日后展馆重新开业,线上展览也缓解了大量人流聚集压力,协助调整参观人数,创造更舒适的参展体验。
The virtual exhibition bridges the gap between internet users and ticket sales, establishing a new online exhibition platform, which draws in more visitors, and in  turn gains extra profits. When exhibitions reopen in the future, the virtual exhibitions will continue to help increase the number of visitors, which removes some of the pressure that comes with hosting a large gathering, while creating a more comfortable exhibition experience.
技术的发展为虚拟展馆带来更真实的体验,虚拟现实中触感、气味等功能已现雏形,线上虚拟体验与线下实体体验的感官差别将会趋近于无。
Modern developments of technology make virtual exhibitions more realistic to users. Touch, sight and other senses in virtual reality have evolved immensely in recent years. Over time, there will be fewer and fewer differences between online virtual experiences and offline experiences.
网络通全球的时代,随着商用5G的推广,虚拟展馆突破时空限制,用户连接上网络便可即刻获取展馆、展品信息。
In the era of Internet, virtual exhibitions are boundless. Users can acquire information about exhibitions from the internet.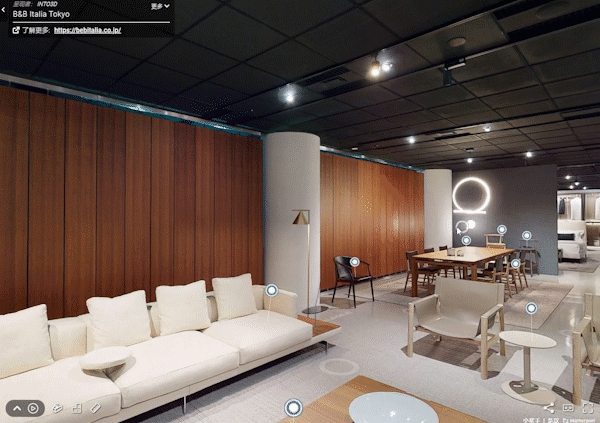 (意大利现代家具商B&B Italia Tokyo与日本家具商大冢家具发布的"虚拟展厅",可在线上体验商店内容,并在家中购物。)
艺术以它独特的方式,展现社会生活、展示文化力量,为苦难中的家国和人们带去希望之光。科技的发展为虚拟展馆提供了技术支持,走进虚拟展馆,与作品互动、与艺术家在线交流成为可能。
Art, in its unique way, shows society and cultural richness, and brings hope and expression to suffering and thriving people alike. The development of science and technology provides technical support for virtual exhibition spaces. By experiencing virtual exhibitions, it is possible to interact with artworks and communicate with  their artists online.
科技发展催生了虚拟展馆,5G时代加速了信息传播,从传承到创造,艺术的发展也必然顺应时代的潮流,伴随科技的进步。
Virtual exhibitions are popping up over night, alongside the development of science and technology, bringing new life to the dissemination of art. From inheritance to creation, the dissemination of art flows to the tide of the times and conforms to the progress of science and technology.
资料参考:
https://bijutsutecho.com/magazine/series/s25/21849
https://www.smithsonianmag.com/smart-news/virtually-tour-five-egyptian-landmarks-180974696/
https://mainichi.jp/english/graphs/20200424/hpe/00m/0na/001000g/6
Weibo:FXG-西顾国         
Facebook: FXGVR
Twitter: FXG_VR             
Youtube: FXG