这个时代,开一家科技公司,需要多少钱?
几十万还是几百万、几千万?你一定不敢想象,他用口袋里仅有的三百块,把梦想变作了实实在在的有办公室、有员工、有设备的科技公司。
How much does it cost to start a technology company today?
Founders try to secure hundreds of thousands or millions of dollars in funding in order to find success. Imagine translating your dream into a thriving technology company with offices, employees around the world, and equipment, starting out with just 300rmb, which is less than $45 USD…
ChicTech媒体博主Irina来杭专访VR科技公司——西顾,以及创始人Nikk。
俏皮的Irina、看起来严肃实则爱玩的Nikk,虽然都来自国外,但在中国发展了他们的事业。他们能以中文进行日常交流,每个与他们交流过的人都称他们"中文通"。
ChicTech media blogger, Irina traveled to Hangzhou to interview our VR technology company, FXG and our founder, Nikk Mitchell.
Irina and Nikk are both very playful spirits who come from abroad, but have developed their careers in China. They communicate fluently in Chinese on a daily basis, and every local who communicates with them is impressed by their fluency in Chinese language and culture.
跟着小编,一起来看看两位有趣的外国人有趣的访谈~
Let's take a look at the intriguing interviews of two foreigners who have found success in China:
————
Nikk:这里是我们设备研发过程中产出的一些模型。
Irina:哇!这是苹果的手机壳,我能用吗?
Nikk:虽然,但是,不能。
Irina:嗯???
Nikk向我们介绍了西顾刚开始自己研发硬件设备时候的一些模型,有的看起来很简陋,但他们都具有历史性意义。
Nikk started out his interview by showing off some of the initial camera prototypes that were built before FXG started to develop our own hardware. Some of them looked very simple, but they all have historical and nostalgic significance.
"大概在8年前,那时候还没有FXG,是我自己做了这个模型,然后用它拍摄了第一个全景VR视频。从八年前简陋的装置到现在的全球领先的VR影视级摄影机,我们一直在进步。" Nikk告诉我们。
"It was probably eight years ago, before FXG was founded; I made this model myself and then used it to shoot the first panoramic VR video. From the shabby installation eight years ago to the world's leading VR film-level camera , We have been improving." Nikk told us.
让Irina感叹的还有展架上的各种奖牌、奖杯。
实际上这并不是全部,西顾办公室分楼上楼下,都有放置。Nikk表示,这些荣誉属于公司所有人,是整个团队一起创造的,所以要让大家都能随时看到,感受到自己努力获得的成功,并为之振奋。这些奖项都很好看,含金量也很高。
Irina pointed out the various medals and trophies on display in the FXG head office.
Nikk says that these awards belong to the company and are earned by the team as a whole, so everyone should be able to see them at any time, feel the success of their efforts, and nurture their excitement for the future. These awards are very beautiful, and they push us to keep working hard.
和一般严肃商务办公室不同的是,西顾办公室墙面上挂了很多艺术作品。
这是由西顾艺术总监、波兰艺术家白伟创作的。西顾以创作VR视频为主,对视频要求极高,不仅是清晰度,还有通过技术所展现出的美学。人都是视觉动物,好奇心驱动人的探索欲,西顾团队将这些元素融合进视频里,打破常规千篇一律的视频形式,为VR内容库创造生机活力。
Unlike a serious, corporate office environment, FXG has many works of art hanging on its walls.
This was created by FXG's Artistic Director, a Polish artist named Bai Wei. FXG focuses on creating VR video, and holds itself to extremely high standards for the content, not only in the resolution, but also the aesthetics and artistic style nurtured throughout the content. People gravitate towards visually pleasing scenes, and curiosity drives people's natural desire to explore. The FXG team integrated these elements into its content, breaking the conventional stereotyped video format and creating vitality for the VR content library.
————
Nikk:这么多我们自研的相机,你喜欢哪一个?
Irina:我喜欢这个ET-3新相机!
Nikk:送给你吧,刚好放你小包里~
Irina:真……真的吗?
西顾虽然是一家才成立3年的初创公司,但有着完善的VR解决方案。从拍摄VR视频用的硬件到编辑与输出用的软件,一应俱全。
Although FXG is a start-up company that has only been established for 3 years, it has a complete VR solution. Everything from hardware for shooting VR videos to software for editing and output.
ET-2/6K
ET-3/8K
SEIZE/16K
FM360/全画幅
西顾的视频部门非常优秀,所以才能做出优秀的《履客》系列片,来访西顾的国内外领导、友人都纷纷称赞。
FXG's video department is very good, so it was able to make an excellent VR travel series, of which the leaders and friends who visited FXG all praised.
Nikk特别介绍了西顾大佬:"这是我们的CTO李文松,是西顾相机开发的主力,正如你看到的这些。我们还有最新的相机正在研发中,暂时保密。说不定半年后你再来,就能用新相机为你拍一段视频了~"
Nikk introduced one of FXG's original teammates in particular: "This is our CTO, Wilson Lee, the main force of FXG's camera development, as you can see. We also have the latest camera under development, temporarily confidential. Maybe half a year later you can come again and we can use our new camera to shoot a video for you!"
————
Nikk:这是我们的Looking Glass全息显示器
Irina:好酷!我可以试试吗?
Nikk:你玩这个抓小人,是用我自己的头像做的
Irina:哈哈这个有意思!让我来点暴力的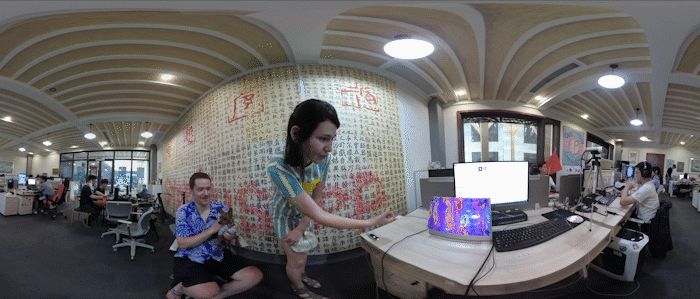 Irina在西顾体验了Looking Glass裸眼全息显示器,不需要佩戴AR/VR头显设备,裸眼即可观看显示屏上的3D立体内容。
During Irina's visit to the FXG HQ, she experienced the Looking Glass holographic display. With Looking Glass, there is no need to wear an AR/VR head-mounted display, as you can watch 3D stereoscopic content on the display with the naked eye.
目前有3个尺寸的显示器,8.9寸与15.6寸是比较常见的款,非常适合3D内容开发者作为辅助屏使用。最新款32寸,8K清晰度,也是市面上最大的、清晰度最高的全息显示器!
There are currently three sizes of displays, 8.9 inches and 15.6 inches are relatively common models, and are very suitable for 3D content developers to use as auxiliary screens. The latest 32-inch, 8K resolution, is also the largest and highest definition holographic display on the market。
当Nikk提到用自己头像做游戏模型的原因时,Irina瞬间激动起来,开始疯狂抓小人!
真是一个令人心情舒畅的游戏-—Irina内心独白
Nikk explained why he created an app with a miniature version of him that you can interact with. Irina exploded with excitement as she interacted with his little avatar! She found it to be a very relaxing game.
————
Nikk:我们还有自己的Lab6实验室
Irina:它是做什么用的呢?
Nikk:穿越!
Irina:啊!
爱玩的Nikk带Irina体验了一次穿越。
你印象中的穿越是回到过去吗?他们去的却是在现代化无人机上俯瞰古色古香的梦想小镇。
Nikk took Irina to experience a crossroads between modernity and the past by overlooking Dream Town, where our office is located, using a modern drone.
西顾于2019年春天正式启动6DoF沉浸式影像实验室(简称Lab6),旨在推动6DoF技术与内容不断发展,向旅游、建筑、游戏、电影、艺术等各个行业扩展应用。
迈入实验室,入眼是整齐排列的相机和绿幕,看起来就是要搞大事情啊!西顾通过实验室捕获的阵列内容已经适配到最新的裸眼全息显示器和其他设备中,同时支持制作子弹时间与影像三维模型。
FXG officially launched the 6DoF Immersive Imaging Laboratory (Lab6 for short) in the spring of 2019, aiming to promote the continuous development of 6DoF technology and content, and  to expand its application to various industries such as tourism, architecture, games, movies, and arts.
In the laboratory, there is an influx of neatly arranged cameras and green screens, working overtime to achieve amazing things! The content captured by FXG in the laboratory has been adapted to the latest Looking Glass holographic display and other devices, and it supports the production of three-dimensional models, bullet time and images.
成立一家公司并没有那么容易。
Nikk刚到杭州的时候,口袋里只有三百块钱,食宿都需要花钱,在接近崩溃的时候,KAT的创始人与他的朋友帮助了Nikk,由此获得实现梦想的机会。
过去是辛苦的,未来是对技术与内容创新的不断追求,但更重要的是现在,VR本就离不开现实,就像西顾一直坚持的"捕捉现实、创造现实"。
Setting up a company is not that easy.
When Nikk first arrived in Hangzhou, he had only three hundred YUAN in his pocket, and he needed to spend money on accommodations and lodging. When his financial collapse was near, the founder of KAT, along with some of his friends helped Nikk, enabling him the chance to realize his dream.
The past is hard and the future is the constant pursuit of technology and content innovation, but most importantly is the present. VR is inseparable from reality, which is why FXG has always followed the mantra of "capturing reality, creating realities."
致谢Irina到访。
ChicTech是一家致力于高科技新闻的在线媒体,其总部位于杭州,属于Tezas集团的一部分。旨在为读者带来AI,VR,加密和其他创新领域的最新信息,他们坚信高科技有释放人类的全部潜力的能力。详情可关注:
https://www.youtube.com/channel/UCS_pRMBCANf0Kz-NydARCRQ
ChicTech is an online media specialized in high tech news, based in Hangzhou. We are part of the Tezas group, and are always bringing you the freshest information in the field of AI, VR, crypto and other innovations. We believe that high tech has the power to unlock the full human potential. Follow us on YouTube with this link: 
https://www.youtube.com/channel/UCS_pRMBCANf0Kz-NydARCRQ
Weibo:FXG-西顾国         
Facebook: FXGVR
Twitter: FXG_VR             
Youtube: FXG